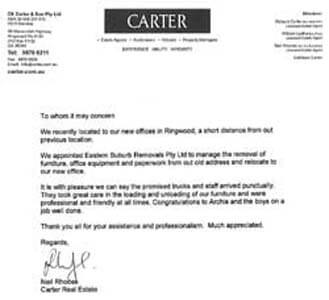 We recently located to our new offices in Ringwood, a short distance from our previous location.
We appointed Eastern Suburbs Removals to manage the removal and relocation of furniture, office equipment and paperwork form our old address to our new offices.
It is with pleasure that we can say the promised trucks and staff arrived pucntually. They took great care in the loading and unloading of our furniture, and were professional and friendly at all times. Congratulations to Archie and the boys on a job well done.
Thank you all for your assistance and professionalism. Much appreciated.
Regards,
Neil Rhodes
Carter Real Estate