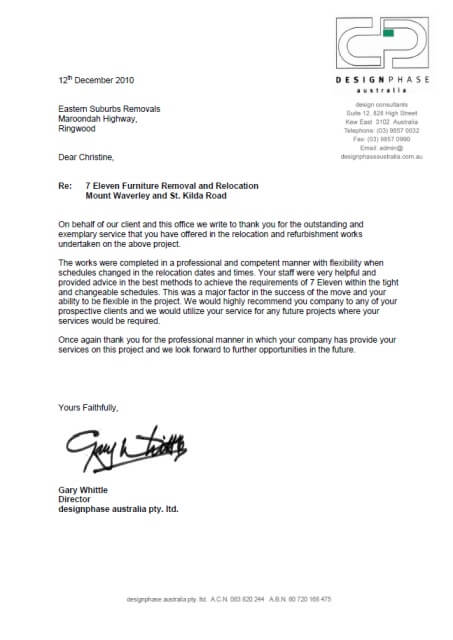 Dear Christine,
Re: 7 Eleven Furniture Removal and Relocation, Mount Waverley and St. Kilda Road
On behalf of our client and this office we write to thank you for the outstanding and exemplary service that you have offered in the relocation and refurbishment works undertaken on the above project.
The works were completed in a professional and competent manner with flexibility when rescheduling was required for the relocation dates and times. Your staff were very helpful and provided advice on the best methods to meet and exceed the requirements of 7 Eleven within the tight and changing schedules. This was a major factor in the success of the move, along with your ability to be flexible throughout the project. We would highly recommend your company to any of your prospective clients and we would utilize your service for any future projects where your services would be required.
Once again thank you for the professional manner in which your company has provided removalist services for this project, and we look forward to further opportunities to work with you in the future.
Yours faithfully,
Gary Whittle
Director
designphase australia pty. ltd.